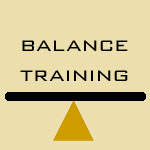 Fall-related injuries are the leading cause of injury, deaths, and disabilities among adults older than 65 years. Minimizing the fall risk is a practical approach to reducing these serious injuries.
One strategy is balance training.
One study showed that 6 weeks of training improved balance, mobility, and confidence in walking indoors and outdoors in patients with balance problems before they started training.
Another reported that improvements in balance could be achieved after just 5 weeks of twice weekly 15-minute balance training sessions.
The results of a recent 12-month study in elderly women reported a reduction in the number of falls compared to a group that did not get balance training.
There are lots of websites that describe balance exercises. For the elderly, remember that the training itself can be dangerous if not first approved by a doctor and done under the supervision of a trained professional.
Illustration: Physical Therapy Plus
11/19/06 18:57 JR