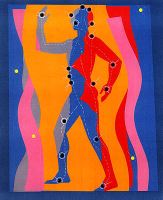 Ten years ago, Bandolier (the evidence based healthcare information service) stated that the best clinical studies "showed no difference between … acupuncture and sham acupuncture for pain relief."
Since then, newer studies have been more positive.
In 2004, Dr. Brian Berman at the University of Maryland School of Medicine in Baltimore followed 570 people with osteoarthritis of the knee for 6 months, making it the longest and largest study of acupuncture to that time. By week 8, the acupuncture group had better function than either the patients treated with sham acupuncture or the group that participated in an educational program developed by the Arthritis Foundation. By the 14th week, the acupuncture group also reported significantly less pain than the two other groups.
Now, a larger study in Germany has concluded that after 3 months, the 357 patients with OA of the knee or hip who were randomly assigned to acupuncture had significant improvement in pain, disability, joint stiffness, and in their quality of life compared to the 355 patients who did not receive acupuncture treatment. The improvements in the acupuncture groups continued for 3 months after stopping therapy.
All of the participants in both studies were allowed to continue using conventional care for osteoarthritis, such as anti-inflammatory drugs.
These results indicate that acupuncture plus routine care is associated with marked clinical improvement in patients with chronic OA-associated pain of the knee or hip.
11/1/06 19:37 JR