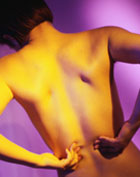 Spinal manipulation (SM) is a traditional treatment practiced by chiropractors, osteopaths, physiotherapists, and other healthcare providers mostly (but not exclusively) to treat musculoskeletal problems. SM can be described as the use of hands or force applied to the patient to achieve a therapeutic outcome.
The literature supports SM for treating back pain, but not much else.
This conclusion is based on a review of 16 review article covering back pain, neck pain, lower back pain and neck pain, headache, non-spinal pain, primary and secondary dysmenorrhea, infantile colic, asthma, allergy, cervicogenic dizziness (dizzines plus neck pain), and "any medical problem."
The conclusions of these reviews were largely negative, except for back pain where spinal manipulation was considered superior to sham manipulation but not better than conventional treatments.
SM is not without the risk of side effects as discussed here and here. Minor, transient adverse events occur in about half of all patients receiving spinal manipulation. More serious complications range from 1 per 2 million manipulations to 1 per 400,000.
Hopefully, this summary will help consumers make a more informed decision regarding SM.
Photo: Sutter Health
11/10/06 21:58 JR