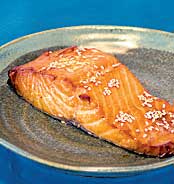 Modest consumption of fish — one to two servings a week — may reduce the risk of coronary death by 36% and the actual death rate by 17%, according to Harvard researchers.
But what about the risk from mercury?
Unfortunately, the public is bombarded with confusing messages about mercury contamination and may be avoiding fish in their diet at the expense of its benefits.
There is a healthy middle ground. Read more about the benefits and risks of eating fish in the age of mercury at Nubella.
10/16/06 21:21 JR