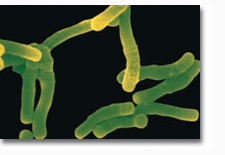 There have been lots of posts here on probiotics and their effects in a wide range of infections of the GI tract. Probiotics are an appealing concept given their favorable safety profiles.
Now, a summary of clinical trials has been published.
Here are the findings.
Some placebo-controlled trials show that lactobacilli suppress infections caused by Helicobacter pylori, but others fail to confirm this.
Controlled trials support the use of Lactobacillus GG and Saccharomyces boulardii to prevent antibiotic-associated diarrhea, and the effectiveness of S boulardii used as add-on therapy for recurrent infections.
Several placebo-controlled trials show that Lactobacillus GG reduces the severity and duration of acute diarrhea in children.
Studies of probiotics to prevent traveler's diarrhea report conflicting results, and their routine use cannot be recommended in this setting.
Conclusive evidence that probiotics prevent secondary pancreatic infections is not available at this time.
Another review that discusses the various bacteria and yeasts used as probiotics is available at PDRhealth.com.
10/7/06 20:19 JR