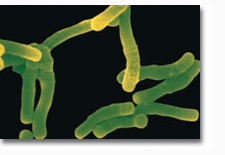 It's not merely a matter of "the more the merrier" for therapeutic probiotic bacteria.
Preliminary evidence reported here and here supports the value of the probiotics Bifidobacterium infantis 35624 in treating irritable bowel syndrome (IBS). Now, a study in more than 350 women with IBS reports that the dose of B infantis 35624 has an effect on the ability to improve symptoms.
After four weeks of treatment with B infantis 35624 at a dose of 1 x 10(8) cfu (colony forming units), patients experienced significant improvement in bloating, bowel dysfunction, incomplete evacuation, straining, and the passage of gas compared to placebo. There was a 20% overall improvement in symptoms with B infantis compared to placebo.
There was no difference in symptoms with two other doses, both higher and lower than the effective dose. And all doses were well tolerated.
I think the take-home message is not the specific dose used, but rather, recognition that for probiotics, and for CAM in general, the amount you take is as important as what you take.
9/30/06 23:12 JR