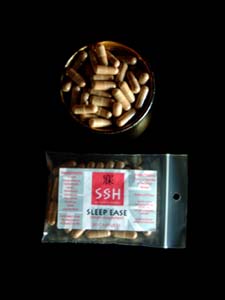 As a Chinese herbal, it was sold over-the-counter as Salt Spring Herbals Sleep Well Dietary Supplement capsules. But, it contained estazolam, a habit-forming sedative, sold by prescription only in the U.S. under the trade name, ProSom.
Now, the distributor's website says, "Despite assurances from our supplier that the formula was all natural herbs, to our shock, disappointment and concern we have been advised by Health Canada that laboratory testing indicates the presence of ? estazolam."
The distributor advises, "If you have unused product we ask that you send it back to us no later than October 1st for a full refund of postage, outbound and return, as well as $1.00 per capsule plus GST. Refunds will be issued by October 15th."
Send any you have to
Salt Spring Herbals Ltd.
P.O. Box 355
Salt Spring Island, BC V8K 2W1
Salt Spring Herbals Sleep Well Dietary Supplement capsules were advertised as an herbal natural health product to relieve insomnia and restless leg syndrome.
The most common side effects associated estazolam are dizziness and drowsiness. More serious side effects include loss of memory, hallucinations, confusion, and depression.
9/3/06 8:03 JR