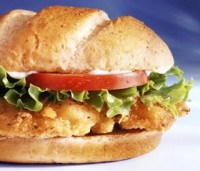 Not in Barcelona, apparently.
Among more than 600 people studied, fidelity to the classic Mediterranean diet was lacking.
Excessive consumption of food high in saturated fat, especially young people
Deficit intake of slowly absorbed carbohydrates
Less than ideal consumption of fruit, green vegetables and root vegetables, particularly among the young
Consumption of milk products below recommended amount
On the other hand, fish and white meat was about right.
Can you say, "Crispy Chicken Sandwich?" I think its part pf the Mc-dieting of the world's population.
9/2/06 12:34 JR