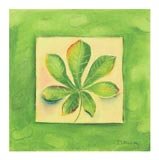 When your leg veins can't pump enough blood back to your heart, you have chronic venous insufficiency (CVI). Today, standardized horse chestnut seed extract (HCSE) is a well-established treatment for CVI and edema. It's a common ingredient in lotions, creams, massage oils, and other skin care products, often in combination with other herbal ingredients.
How does it work?
The active component in HCSE is aescin. And in clinical trials, 50 mg of aescin given 2 to 3 times daily for CVI resulted in a positive effect that was, in part, due to its ability to strengthen capillaries, which leads to a reduction in swelling.
The benefits for those who take HCSE include reductions in lower-leg volume and in leg circumference at the calf and ankle, as well as improvement in symptoms such as leg pain, pruritus, fatigue, and tension. Adverse reaction are rare.
Illustration: Art.com
9/25/06 21:00 JR