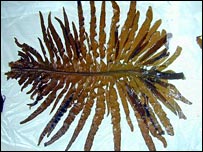 Rat research on fucoxanthin presented during the 2006 American Chemical Society meeting in San Francisco is starting to make the rounds in the media.
Don't hold your breath, fucoxanthin is years from being sold at GNC — if it ever gets that far.
Here's what we know about fucoxanthin.
Found in brown seaweed (Undaria pinnatifida, a type of kelp also called wakame and used in miso soup)
Stimulates a protein called UCP1 in the fat that surrounds internal organs (white adipose tissue)
Reduced the weight of obese rodents by 5% to 10%
This is the first time that a natural food component has reduced fat by targeting the UCP1 protein
It remains to be seen if any of this applies to human beings.
One more thing, drinking large amounts of miso soup will not help you lose weight. Fucoxanthin is tightly bound to the proteins in seaweed and not easily absorbed in its natural form.
Photo: BBC
9/25/06 19:09 JR