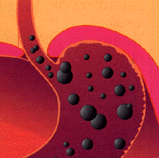 The risk of gastroesophageal reflux disease (GERD) is directly linked to a woman's body mass index (BMI), according to the results of a study published in The New England Journal of Medicine.
Among more than 10,000 women studied, those who started at a normal weight but gained a moderate amount of weight over a 14-year period faced an increased risk of GERD.
For example, compared with women whose BMI remained constant over the previous 14 years, the risk of GERD more than doubled among those whose BMI increased by more than 3.5. Alternatively, the risk decreased nearly 40% among those whose BMI decreased by more than 3.5.
This is not the first time this association was observed.
Last year, a review of nine earlier studies identified significant associations between increasing BMI and GERD symptoms. In addition, there was an increased risk for erosive esophagitis, esophageal adenocarcinoma, and gastric cardia adenocarcinoma.
The significance of this latest study is that BMI was a risk factor even after adjusting for other factors including age, smoking, physical activity, intake of alcohol, coffee, tea and chocolate, as well as hormone replacement therapy, hypertension, asthma, and diabetes.
In other words, there's no excuse for not including diet and exercise as part of a comprehensive treatment of GERD. It's an important update to an earlier post on this blog.
Illustration: New York Methodist Hospital Heartburn (GERD) Program
9/5/06 21:11 JR