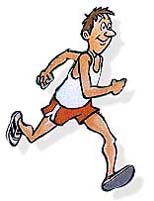 Three or four short, brisk walks during the day are more helpful to people watching their blood pressure than one continuous 40-minute work-out in a gym.
Twenty people with prehypertension (increased blood pressure levels that typically progress to high blood pressure) participated in this study. They walked on a treadmill for 40 minutes on one day. The next day, the same group went for 4, 10-minute walks over 3.5 hours.
On average, the systolic blood pressure following both forms of exercise dropped a little more than 5 mm Hg. This is significant because a reduction of 5 mm Hg is associated with reduced mortality. However, the response lasted about 11 hours when the group took four 10-minute walks, compared to seven hours when they walked continuously for 40 minutes.
A person has prehypertension when the systolic blood pressure ranges from 120 to 139 mm Hg or the diastolic pressure ranges from 80 to 89 mm Hg. Another study is going to be done in people with high blood pressure.
Illustration: University of Dundee
9/6/06 23:26 JR