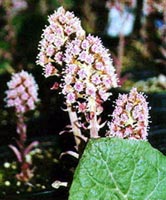 In atopic asthmatic patients butterbur provides complementary activity when combined with other treatments.
In one study, 16 atopic asthmatic patients took butterbur 25 mg or placebo twice daily in addition to inhaled corticosteroids. After one week, laboratory values that indicate the presence of inflammation improved significantly with butterbur plus inhaled steroids compared to placebo plus inhaled steroids.
In a second study of 80 patients, butterbur was added to each patient's ongoing asthma therapy. And after two months, there was significant improvement.
Number, duration, and severity of asthma attacks decreased
And one more benefit; 40% of patients reduced the intake of their medications by the end of the study.
These study results suggest the butterbur (Petasites hybridus extract Petadolex) is an effective and safe therapy for the treatment of asthma.
More positive results. In previous posts, butterbur was as effective as antihistamines in controlling the symptoms of allergic rhinitis.
9/18/06 22:09 JR