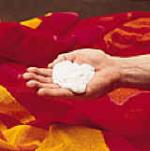 When sunscreen is applied, its UV filters reduce the amount of UV radiation that penetrates the skin. Over time however, the filters themselves penetrate below the surface of the outer layer of skin, leaving the body vulnerable to UV radiation.
In fact, when commonly used sunscreens (octylmethoxycinnamate, benzophenone-3 and octocrylene) are abasorbed, they actually generate reactive oxygen species (ROS) that cause oxidative damage. This leads to skin damage and increases in the visible signs of aging, according to researchers at the University of California, Riverside.
To be clear, ROS are produced naturally in the absence of sunscreens, but the addition of sunscreens plus exposure to UV radiation increases the rate of ROS production.
The bottom line?
Additional ROS are generated only when the UV filters have penetrated into the skin and, at the same time, sunscreen is not reapplied to prevent UV radiation from reaching the absorbed UV filters.
It's another reason to use sunscreens liberally.
Photo: WalkingWithAttitude.com
9/17/06 12:24 JR