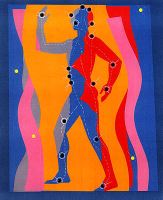 Since this blog started three months ago, more than a dozen posts have been about acupuncture.
Here is some basic information to know if you're considering treatment by an acupuncturists. It comes from an article I wrote in 2000. Except for the conditions to treat, it's still up-to-date.
What is qi?
Where is qi located in the body?
Where are meridians located?
What is the role of the acupoints?
What about the other acupuncture points?
How do the acupuncture needles create an electrical current?
How does acupuncture actually work?
Plus some thoughts on safety.
9/9/06 10:55 JR