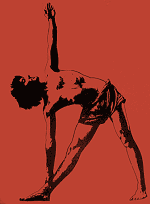 Here are two links and a book for anyone who wants to include a little yoga in their life.
Prevention.com has an introductory article. No actual yoga, but stuff you should know before you start.
An article on the HGTV website titled "Good Morning Yoga" briefly covers three moves that can be done in sequence. It also includes the caveat, "Check with a physician if you have injuries or any questions."
The moves described in the HGTV article will hold you until your first book arrives. "A Morning Cup of Yoga: One 15-minute Routine for a Lifetime of Health & Wellness" can be ordered at Amazon on the left sidebar.
8/10/06 15:46 JR