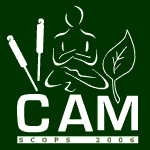 CAMExpo West will take place on November 10th to 12th in Los Angeles. Learn more here.
The agenda covers a lot of ground as can be seen from the diverse group of expected attendees: medical doctors, naturopaths, chiropractors, pharmacists, homeopaths, TCM practitioners, osteopaths, herbalists, dieticians, nurse practitioners and registered nurses.
Beth Israel Medical Center and St Luke?s-Roosevelt Hospitals will provide continuing medical education for physicians who attend the CAMExpo meeting.
8/10/06 15:19 JR