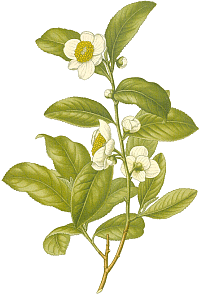 About a year ago, the U.S. Food and Drug Administration (FDA) issued a statement that based on available data, "it is highly unlikely that green tea reduces the risk of breast cancer." This conclusion was based on two studies in which drinking green tea did not reduce the risk of breast cancer in women, and one weaker, more limited study where drinking green tea might reduce this risk.
Now, a year later, there is another review and a different conclusion by researchers at the University of Minnesota.
The combined results from four epidemiologial studies indicate that the risk of breast cancer was lowest for those who drank the most green tea compared to the lowest intake or no intake of green tea.
I've stated before that green tea is not very tasty, in my opinion. However, Harney and Sons sells a flavored green tea called Bangkok Flavored Green Tea. Unfortunately, the loose tea, which is the most economical, has stems mixed with the leaves. Despite this, it tastes pretty good. You can use the Amazon search box on the left to find it. Type "Harney and Sons Bangkok."
8/1/06 13:57 JR