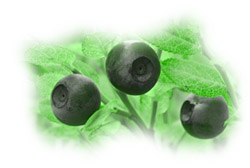 European bilberry and its close relative blueberry have been a popular symptomatic treatment for a variety of eye disorders. Bilberry fruit and its extracts contain a number of biologically active components, including a class of compounds called anthocyanosides.
But is bilberry (or blueberry) effective for age-related macular degeneration (AMD) in humans?
One study in rats supports its use. And during the most recent Canadian Ophthalmological Society meeting, one study of blueberry juice improved dark adaptation in patients with AMD. A second study of dehydrated blueberries was negative.
It's difficult to make any definitive statement about the berries. In one review,
7 non-randomized controlled trials reported positive effects
But,
4 out of 5 with a placebo control were negative
Negative outcomes were associated with more rigorously designed studies but also with lower doses
It's another example of conducting clinical research in the absence of the foundation provided by sound laboratory and dose-ranging studies. Extracts from geographically distinct sources may differ in anthocyanoside composition. Until the active ingredients in bilberry become standardized, additional clinical trial results are likely to be unreliable.
Illustration: Kiantama
8/18/06 19:07 JR