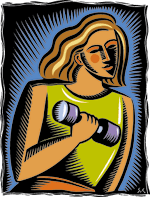 The International Council on Active Aging and AARP will sponsor Active Aging Week, September 25th to October 1st.
I mention it because one of the sponsors offers a locator for "age-friendly" fitness centers. It's designed to help people over 50 find a gym or a health club. It's unclear what they do to make themselves "age-friendly," however.
I've posted before about physical activity and longevity. And the CDC has a comprehensive report on the topic. The locator might be a good way to encourage older friends and family members to get serious about exercise.
7/18/06 22:10 JR