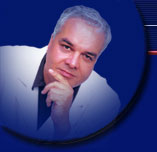 The trial of alternative medicine practitioner Dr. Matthias Rath started last week in Hamburg. Dr. Rath advocates a vitamin treatment to cure cancer. In this case a 9-year-old boy with bone cancer died after he [Dr. Rath] convinced the boy's parents to use a "miracle cure" rich in vitamins and to reject conventional medical treatments.
The child's mother, Anke Feld, tells a bizarre story of conspiracy among physicians, conventional medicine, and the pharmaceutical industry in which her son was a pawn. She believes her son "died as a result of the numerous clinical and medical errors and the negligence with which our son was treated in the different hospitals."
Dr. Rath, whom Ms. Feld thanks for his support and guidance, is the founder of Cellular Medicine, which his website describes as a groundbreaking concept that identifies nutritional deficiencies at the cellular level as a root cause of many chronic diseases. A critical view of him is provided here.
7/28/06 15:32 JR