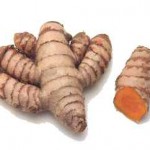 NCB-02 is a standardized curcumin (a chemical in turmeric) preparation that has been used with positive results in an animal model of ulcerative colitis.
Now, researchers at the All India Institute of Medical Sciences, in New Delhi, tested it in people.
First, the details.
45 patients with distal ulcerative colitis (at least 25 cm involvement) and mild-to-moderate disease activity were randomly assigned to a treatment group.

NCB-02 enema plus oral 5-ASA
Placebo enema plus oral 5-ASA

Disease response, defined as a reduction in Ulcerative Colitis Diseases Activity Index by 3 points and improvement in endoscopic activity and disease remission were recorded at 8 weeks.

The Ulcerative Colitis Diseases Activity Index measures stool frequency, rectal bleeding, mucosal appearance, and physician assessment of disease activity.

Neither the patients nor researchers knew the treatment given — double blind.
And, the results.
Among all patients who entered the study (intent to treat)…

No significant difference in response to treatment, remission rate, or endoscopy findings.

Among patients who completed treatment and adhered most closely to the protocol…

Significantly better outcomes in the NCB-02 group vs placebo group in…

Clinical response (93% vs 50%)
Clinical remission (71% vs 31%)
Improvement on endoscopy (86% vs 50%)
The bottom line?
The authors concluded, "In this pilot study we found some evidence that use of NCB-02 enema may tend to result in greater improvements in disease activity compared to placebo in patients with mild-to-moderate distal ulcerative colitis."
In this small group of people, those who adhered most closely to the assigned treatment were significantly better off than those who lost interest in the treatment because they were lazy or failed to see improvement.
Here's the problem. In the US, this study would be considered a failure if the sponsors were trying to get FDA permission to market NCB-02 as a treatment for colitis. However, if all you want to do is sell the treatment in areas of the world that don't care about the FDA, this study was modestly successful.
More interesting to me is the proposed mechanism for the action of NCB-02 in ulcerative colitis. I think that's the real importance of this research.
We know that high amounts of nitric oxide (NO) by iNOS (inducible nitric oxide synthase) are demonstrated in acute or chronic inflammation. iNOS is calcium sensitive and located on Chromosome 17.
Thus, the positive results from this study may be due to curcumin treatment lessening colonic damage by inhibiting colonic iNOS among other enzymes.
More research to identify the best dose, regimen, or product formulation may some day lead to a valuable new treatment for ulcerative colitis that affects the far end of the colon.
9/14/13 16:24 JR