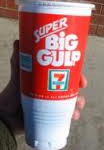 It's been shown in the US.
Now, researchers from Imperial College London and the InterAct consortium report an association with type 2 diabetes in Europeans who drink sugar-sweetened soft drinks.
First, the details.
12,403 type 2 diabetes cases were compared with a randomly chosen group of 16,154 non-diabetics.
And, the results.
After adjusting for confounding factors, drinking 1, 12-ounce (336 mL) serving of sugar-sweetened soft drink per day increased the risk of type 2 diabetes 22%.

This increased risk fell to 18% when total energy intake and body-mass index (BMI) were accounted for.

Drinking pure fruit juice and nectar wasn't significantly associated with the incidence of diabetes.

It wasn't possible, using the data available, to study the effect of 100% pure juices vs those with added sugars.
The bottom line?
The authors concluded, "This study corroborates the previously reported increase in type 2 diabetes risk associated with sugar-sweetened soft drink consumption that seems to be independent of BMI."
An earlier meta-analysis of data from 11 studies (9 from the US) reported that regular consumption of sugar-sweetened beverages is consistently associated with an increased risk of metabolic syndrome and type 2 diabetes.
Specifically, drinking 2 sugar-sweetened drinks per day increases the risk of developing type 2 diabetes 26% and increases the risk of metabolic syndrome 20% compared with drinking less than 1 sugary drink per month. Drinking 1, 12-ounce serving per day increased the risk of type 2 diabetes by about 15%.
Still unclear, however, how much of a difference New York Mayor Bloomberg's now banned ban on large (greater than 25 calories per 8-ounce) sugary drinks would have had.
4/26/13 9:04 JR