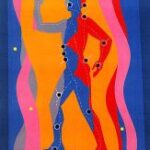 Researchers from the US, Germany, and China studied the proposed benefits.
The results offer an opportunity to compare acupuncture to other treatment options.
First, the details.
422 persons with seasonal allergic rhinitis and IgE sensitization to birch and grass pollen were randomly assigned to a treatment group.

Acupuncture plus rescue medication (cetirizine, Zyrtec)
Sham acupuncture plus rescue medication
Rescue medication alone

12 treatments were provided over 8 weeks during the first year.
Measurements included changes in the Rhinitis Quality of Life Questionnaire (RQLQ) overall score and the rescue medication score from the start to weeks 7 and 8 and week 16 of treatment in the first year and week 8 in the second year.

Rescue medication score is the use of a medication intended to relieve symptoms immediately.
And, the results.
Acutely, when compared with sham acupuncture and with rescue medication, acupuncture treatment was associated with significant improvement in RQLQ score and rescue medication score.
But there were no differences after 16 weeks in the first year.
After the 8-week follow-up phase in the second year, small improvements favoring real acupuncture over the sham procedure were noted.
The bottom line?
Yes, "Acupuncture led to statistically significant improvements in disease-specific quality of life and antihistamine use measures after 8 weeks of treatment compared with sham acupuncture and with rescue medication alone.
The authors also concluded, "The improvements may not be clinically significant." But clinical significance is based on the perception of the treated not the treater.
Statistically, at least, these patients felt better during acupuncture treatment, but evidence of a long-term response was lacking. Of course, that's true of antihistamine therapy too without the time commitment.
Regarding immunotherapy (allergy shots), the commitment to treatment lasts 3 to 5 years, and a response (which occurs in up to 90% of people) may not become evident until after months or a year of therapy. After 3 to 5 years of treatment, allergists report that some patients discontinue shots and maintain benefits, although I'm unable to find a percentage to support that statement. (Maybe a reader can help here.)
There are clear differences among these treatments. Speaking as a year-round allergy sufferer, we each have to consider how much time and cost we're willing to spend to reduce the symptoms.
2/23/13 12:15 JR