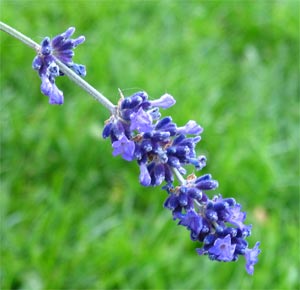 It's used for depression, headache, hypertension, insomnia, migraine, nervous tension, and other stress-related conditions.
Researchers in Germany and Iran conducted the first placebo-controlled study of lavender essential oil to treat migraine headaches.
First, the details.
47 patients with migraine headache were divided into 2 groups.

Inhaled lavender essential oil for 15 minutes
A control group that used liquid paraffin

Patients recorded their headache severity and associated symptoms at 30-minute intervals over 2 hours.
A visual analogue scale was used to compare treatments.
The groups were similar in the presence of potentially confounding factors.
And, the results.
The average reduction in headache severity was 4 on the visual analogue scale) with lavender oil vs 2 in controls — a significant difference.
The percentage of responders was significantly higher in the lavender group than the placebo group.

In the lavender group, 92 of 129 (71%) headache attacks responded entirely or partially to lavender.
In the control group, 32 of 68 (47%) headache attacks responded to placebo.
The bottom line?
The authors concluded, "Inhalation of lavender essential oil may be an effective and safe treatment modality in acute management of migraine headaches."
It's one thing to compare lavender to a placebo (paraffin), but this shouldn't be confused with a "blinded" study in which the patients are unaware of which treatment they receive. Others have written that "the association of lavender aroma with relaxation [and perhaps headache relief] might be influenced by expectations, and these expectations are easily manipulated."
In the absence of the ability to conceal real vs placebo treatment from patients and the high placebo response of 47%, it might be better to design a "crossover" study in which all patients are exposed to lavender and placebo in random order. Then, at least, we might compare responses in the same individuals.
5/26/12 11:05 JR