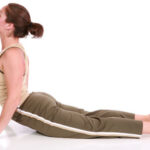 Researchers at the Universidade Estadual de Londrina-UEM, in Brazil, evaluated the effectiveness of the Pilates method on the pain and function in adults with non-specific chronic low back pain.
First, the details.
5 studies met the inclusion criteria.
The total number of patients was 71 in the Pilates group and 68 in the control group.
And, the results.
Pilates exercise did not improve functionality or pain between Pilates and the control groups.
Pilates + lumbar stabilization exercises presented no significant difference in functionality or pain.
The bottom line?
The authors concluded, "The Pilates method did not improve functionality and pain in patients who have low back pain when compared with control and lumbar stabilization exercise groups."
Similarly, researchers at the Peninsula Medical School, in Exeter, UK, reviewed the topic and concluded, "Although there is some evidence supporting the effectiveness of Pilates in the management of low back pain, no definite conclusions can be drawn."
8/26/11 22:12 JR