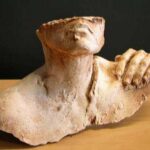 Apathy is prevalent among patients with Alzheimer's disease and is associated with greater morbidity and worse outcomes.
Researchers in Spain report that the music+art combination reduced apathy in patients with mild or moderate dementia.
First, the details.
146 institutionalized or day care dementia patients with mild or moderate dementia, with no significant motor or sensory problems, or with rapidly evolving dementia and in a clinically stable state were assigned to a treatment group for 4 weeks.

Music+art therapy and psychomotor activity
Control: Free activities in the day room

A battery of tests was given at 4 and 8 weeks.
And, the results.
There was a significant difference between the music+art and the control groups as measured using the DAIR scale (a measure of apathy).
The difference was greatest in the patients with moderate apathy.
Patients with severe apathy and non-apathetic patients failed to experience the same benefit.
The bottom line?
The authors concluded, "Short-term occupational therapy intervention is more useful than activities of the patients' own choice for improving apathy in patients with mild or moderate dementia."
The results are supported by an earlier study of music therapy plus painting inanimate-animate object pictures reported, "Multisensory stimulation method applied to mildly-affected Alzheimer's patients had a positive effect on their cognitive state, depression, and anxiety."
2/26/11 20:37 JR