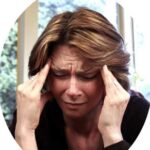 The drug class, triptans is considered the "gold standard" of migraine therapy. Yet, they have limitations and many patients are seeking other therapeutic alternatives.
Researchers in the US studied feverfew + ginger for treating attacks of migraine early during the mild headache phase.
First, the details.
60 patients were assigned to a treatment group for 1 month and treated 221 attacks of migraine.

Feverfew + ginger placed under the tongue (sublingual)
Placebo

All participants met International Headache Society criteria for migraine with or without aura.
They experienced 2 to 6 attacks of migraine per month within the previous 3 months.
They had fewer than 15 headache days per month and were not experiencing medication overuse headache.
Each patient was able to identify the period of mild headache in at least 75% of attacks.
They were able to distinguish migraine from non-migraine headache.
They were instructed but not required to treat with study medication at the earliest recognition of migraine.
And, the results.
At 2 hours…

32% of patients taking feverfew + ginger vs 16% of patients receiving placebo were pain-free — a significant difference.
63% of patients taking feverfew + ginger achieved pain relief (pain-free or mild headache) vs 39% with placebo — a significant difference.

Pain level differences on a 4-point pain scale for those receiving feverfew + ginger were significantly improved vs the placebo group.
Feverfew + ginger was generally well tolerated, with oral numbness and nausea being the most frequently occurring adverse event.
The bottom line?
The authors concluded, "Sublingual feverfew + ginger appears safe and effective as a first-line abortive treatment for a population of migraineurs who frequently experience mild headache prior to the onset of moderate to severe headache."
These results support the findings from an earlier study by the same lead researcher who reported, "GelStat Migraine [an over-the-counter feverfew + ginger product] is effective as a first line abortive treatment for migraine when initiated early during the mild headache phase."
7/6/11 23:38 JR