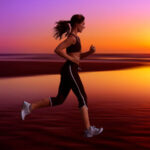 Not a lightweight, Dr. Alex Hutchinson's doctoral degree in physics is from the University of Cambridge.
Now, he corrects what we thought we knew about exercise.
Stretching before exercise
Stretching before running makes you about 5% less efficient, meaning you have to burn more energy to run at the same pace.
Toe-touching stretches alter the brain signals to muscle, reducing exercise efficiency by about 4%.
There's insufficient evidence that it prevents injury.
2% of body weight loss decreases exercise performance
Among marathon runners, fastest finishers were the most dehydrated (-3.1% of their body weight).
Slowest finishers lost 1.8% of their body weight.
The bottom line?
More myths about exercise are discussed here.
8/31/11 19:52 JR