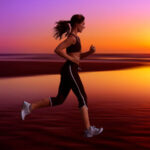 Researchers across the US combined their efforts to define the relationship between fitness and body mass index (BMI) with mortality.
First, the details.
14,345 adult men had their fitness levels estimated based on the results of a maximal treadmill test.
Changes in fitness and BMI between the start and last examination over 6 years were classified into loss, stable, or gain groups.
And, the results.
During 11 years of follow-up after the last examination, 914 deaths and 300 deaths related to cardiovascular disease occurred.
The risk of death due to any cause and death due to cardiovascular disease was higher in men who lost fitness vs those whose fitness level increased or remained the same.
Every 1-MET (metabolic equivalent) improvement was associated with 15% and 19% lower risk of death due to any cause and cardiovascular mortality, respectively.

MET compares the working metabolic rate (amount of oxygen used by the body during physical activity) to the resting metabolic rate.

BMI change was not associated with death due to any cause or cardiovascular mortality after adjusting for possible confounding factors and fitness change.
Men who lost fitness had higher mortality risk regardless of the change in BMI.
The bottom line?
The authors concluded, "Maintaining or improving fitness is associated with a lower risk of all-cause and cardiovascular disease mortality in men."
As you age, place greater emphasis on preventing fitness loss regardless of you BMI. It's not how fat but how fit that's important.
12/6/11 20:29 JR