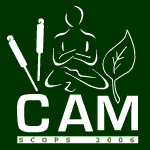 Ms. Elaine Hirsh is a reader of this blog and has authored this comment on several issues that should concern people who opt to use CAM options. She is interested in a wide range of topics ranging from education to technology to public policy. She is currently working as a writer for a masters degree website.
As more Americans exercise their options to seek medical treatments, alternative medicine has become a niche market in treating many ailments. Yoga, massage therapy, acupuncture, meditation and deep breathing therapies all made significant gains in popularity between 2002 and 2007, according to the Centers for Disease Control. This growing interest in alternative medicine and therapies has led to ethical concerns.
First is the lack of informed consent. Many Americans do not realize that the U.S. Food and Drug Administration does not evaluate the claims of effectiveness for nutritional supplements and other non-traditional therapies. As a result, some techniques or supplements, which are safe and effective have little scientific research to back their claims.
Second, most alternative therapies and medicines are not covered by private insurance or medical assistance programs. Some Americans pay out-of-pocket for these treatments because they believe that they are more effective or are safer than traditional medicine, which may not be the case.
Also, practitioners of alternative medicine are not held to national licensing standards like traditional allopathic healthcare practitioners. In part, this is because alternative medicines are often part of religious or cultural beliefs. Imposing traditional Western medicine on specific ethnic groups who may prefer a different form of medicine is not a culturally-sensitive way to practice health care. For example, Chinese acupuncture is a tradition based on thousands of years of practice. Unless an alternative medicine or therapy is proven to be harmful, the FDA typically does not make a statement about it at all, leaving patients to do their own research.
The bottom line?
Consumers should be informed about the effectiveness and potential drawbacks of alternative therapies and medicines before they commit to an alternative course of treatment. Just because the government does not regulate the claims of alternative medical treatments doesn't mean patients shouldn't be aware of the risk factors behind such treatments. Many alternative treatments have value, but it is important to sort through the facts from the irrational claims many of them fabricate.
12/19/11 21:43 EH