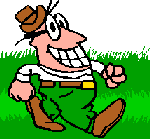 Researchers at the University of Sydney, in Australia studied whether there was a relationship between slow walking speed and increased risk of death.
First, the details.
1705 elderly men participated.
Optimal walking speed was estimated.
And, the results.
The average walking speed was 0.88 meters (2.9 feet) per second.
Survival analysis showed that older men who walked faster than 0.82 meters (2.7 feet) per second were 1.23 times significantly less likely to die than those who walked slower.
No men with walking speeds of 1.36 meters (4.46 feet) per second or greater had contact with Death.
The bottom line?
The authors concluded, "The grim reaper's preferred walking speed is… 2 miles (about 3 km) per hour) under working conditions. As none of the men in the study with walking speeds of 1.36 meters per second (3 miles (about 5 km) per hour) or greater had contact with death, this seems to be the grim reaper's most likely maximum speed; for those wishing to avoid their allotted fate, this would be the advised walking speed."
It's an odd way of telling us that a walker's goal — in terms of speed — should be at least 3 miles per hour.
12/18/11 21:46 JR