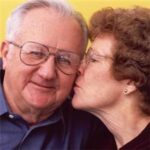 Dr. Keith Wollen at Washington State University, in Port Angeles, has written a review of treatment options.
Let's focus on CAM.
HuperzineA (HupA)
2 Chinese studies showed significant improvement in cognition, memory, and activities of daily living.
A US study in mild-to-moderate Alzheimer's patients reported cognitive enhancement.
A Cochrane review concluded there are too few studies of sufficient quality to recommend its use.
At this point, HupA appears to be effective and better tolerated than FDA-approved drugs, but larger studies are needed.
Curcumin
Studies show no benefits in Alzheimer's disease.
Resveratrol
Ginkgo biloba
A Cochrane review of 36 studies concluded the effect of ginkgo was inconsistent.
In 1 study, ginkgo and donepezil (Aricept) appeared equally effective over 24 weeks in mild-to-moderate dementia.
There is concern over bleed risk with ginkgo, but studies have not confirmed this.
Panax ginseng
There are few studies in Alzheimer's disease.
In 1 study, there was short-term (12-week) benefit, which declined to the level of the control group during the 12-week follow-up.
Withania somnifera (ashwagandha or Indian ginseng)
No published research on Alzheimer's disease.
Phosphatidylserine
There's little research on soy-based phosphatidylserine.
Available data are conflicting.
alpha-Lipoic acid (ALA)
Poorly designed studies provide no definitive results.
Omega-3 fatty acids
Data suggest benefits are limited to patients with very mild cognitive impairment.
Coenzyme Q10 (CoQ10; Ubiquinione)/idebenone)
Studies report conflicting results.
B vitamins
Low levels appear to be associated with cognitive decline.
Studies have focused on changes in homocysteine, with the hope that lower levels will be therapeutic.
No apparent effects on cognition.
Vitamin E
1 study reported that higher levels of vitamin A lowered the risk of Alzheimer's disease and slowed cognitive decline.
Melatonin
Only a few, poorly designed study are available.
Physical exercise, cognitive training, and socialization
Exercise appears to have benefit on executive function (planning, coordination, working memory, abstract thinking, initiation of appropriate actions)
Also benefits with memory training and brain exercises in selected patients.
Few studies have evaluated music on cognitive function, with benefits confined to very short-term.
The bottom line?
Dr Wollen concluded, "At the present time, nutritional, botanical, and stimulatory therapies may provide more benefit and with fewer adverse consequences than conventional medications."
12/22/10 21:34 JR