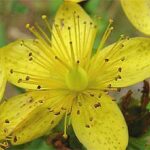 It's one of the most popular herbal supplements for treating depression. Dr. Perry Halushka from the Medical University of South Carolina has reviewed the scientific literature, including the many drug interactions associated with its use.
But the biggest problem is the lack of standardization and reliability of the contents of commercially available brands of St. John's wort.
The major chemical components of St. John's wort are naphthodianthrones, which include hypericin, pseudohypericin, and hyperforin. St. John's wort also contains quercetin, flavones and xanthoids.
Many products are standardized to the hypericin or pseudohypericin content. However, the amounts of active ingredients vary significantly depending on the source, time of the year of the harvest, plant component used, and the type of preparation.
In 1 study, the total naphthodianthrone content in 54 commercially preparations of St. John's wort varied from those claimed on the labels: from 0% to 109% for capsules and from 31% to 80% for tablets.
In another study, the amounts of pseudohypericin among 30 plants did not vary significantly, but the concentrations of hyperforin did vary significantly.
The bottom line?
Such variability has significant implications for potential herbal-drug interactions and effectiveness.
In 2007, ConsumerLab tested 11 St. John's wort products and reported problems with 6 of them.
Caveat emptor.
12/23/09 00:27 JR