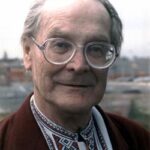 Dr. Rosalba Courtney from New South Wales, Australia gives us the details.
Here's what we about the Buteyko (photo) method.
What is it?
A unique breathing therapy.
It uses breath control and breath-holding exercises to treat conditions believed to be connected to hyperventilation and low carbon dioxide.
People are asked to breathe less rather than more.
What is the technique?
Reduced-volume breathing is done by sitting erect and relaxing the muscles of respiration until feeling a slight lack of air.
This sensation of slight breathlessness is maintained by relaxation of breathing muscles, erect posture, and slight tension of the abdomen.
How does it work?
Many Buteyko Method practitioners adhere to the carbon dioxide theory.
The scientific community is skeptical.
Research has shown that even patients who in the past would have been diagnosed as symptomatic hyperventilators may not show low levels of carbon dioxide at the onset of their symptoms.
Does research support its use?
Studies indicate that people learning the Buteyko Method substantially reduce medication with no deterioration in their lung function or asthma control.
However, no studies have demonstrated objective changes in lung function.
Lots of anecdotal reports of positive results.
The bottom line?
Dr. Courtney concludes, "At present, we cannot explain why the Buteyko Method works and therefore what its real therapeutic potential is."
A better understanding of the mechanisms might permit better targeting patients who might benefit.
9/2/11 18:54 JR