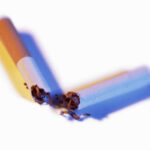 Researchers at Yale University School of Medicine, in New Haven, Connecticut, conducted a study of mindfulness training for smoking cessation.
First, the details.
88 treatment-seeking, nicotine-dependent adults who were smoking an average of 20 cigarettes/day were randomly assigned to a treatment group.

Mindfulness training
American Lung Association's freedom from smoking (FFS) treatment

Both treatments were delivered twice weekly over 4 weeks (8 sessions total) in a group format.
Researchers measured expired-air carbon monoxide to confirm 7-day abstinence, the number of cigarettes smoked per day after 4 weeks treatment, and the week 17 follow-up results.
And, the results.
88% of individuals that received mindfulness training and 84% of those that received FFS completed treatment.
Compared to FFS, mindfulness training showed a significantly greater rate of reduction in cigarette use during treatment and these gains were maintained during follow-up.
More importantly, the mindfulness training group exhibited a trend toward a greater abstinence rate at the end of treatment (36% vs. 15%), which was significant at the 17-week follow-up (31% vs. 6%).
The bottom line?
The authors concluded, "This initial trial of mindfulness training may confer benefits greater than those associated with current standard treatments for smoking cessation."
OK, but it would be more useful to document the rate of smoking cessation after 1 year. Perhaps the authors will report back next spring.
9/19/11 21:18 JR