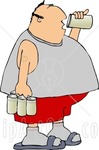 Researchers in Europe and Australia compared weight loss with standard treatment vs a commercial provider (Weight Watchers).
First, the details.
772 overweight and obese adults were recruited by primary care practices in Australia, Germany, and the UK.
Participants were randomly assigned to a treatment group for 12 months.

Standard care
Free membership to a commercial program (Weight Watchers)

Weight change over 12 months was recorded.
And, the results.
61% of participants in the commercial program and 54% in the standard care group completed the 12-month assessment.
Participants in the commercial program lost twice as much weight compared to those in the standard care group: -5 kg (-11 lb) vs -2 kg (-4.5 kg), respectively.
No adverse events were reported.
The bottom line?
The authors concluded, "Referral by a primary healthcare professional to a commercial weight loss program that provides regular weighing, advice about diet and physical activity, motivation, and group support can offer a clinically useful early intervention for weight management in overweight and obese people that can be delivered at large scale."
Weight Watchers International supported the study.
9/8/11 21:53 JR