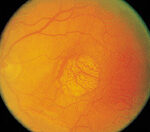 The results reported by researchers at the David Geffen School of Medicine at UCLA, in Los Angeles, California reinforce the recommendation to quit smoking — even for older women.
First, the details.
The participating women (average age 78 years) attended the Study of Osteoporotic Fractures year-10 and -15 follow-up clinic visits.
They had fundus photographs taken (the interior surface of the eye) and graded for age-related macular degeneration (AMD).
And, the results.
The 5-year incidence was 24% for early AMD and 6% for late AMD.
Early AMD incidence in White subjects

22% in those aged 74 to 79 years
33% in those 80 to 84 years
29% in those who were 85 years or older — a significant difference

After adjusting for the potential confounding effects of alcohol consumption there was a significant association with an elevated risk of incident early AMD.
There was an increased risk of early AMD among the women aged 80 years or older whom were smoking vs those younger than 80 years who were not smoking.
The bottom line?
A 1996 study concluded, "Cigarette smoking is an independent and avoidable riskfactor for AMD among women."
This study support's the position that it's never too late to quit smoking.
The authors concluded, "The magnitude of the greater-than-additive effect of smoking on the age-adjusted risk of AMD reinforces recommendations to quit smoking even for older individuals."
1/19/10 21:52 JR