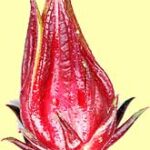 Cochrane reviewed the effect of roselle (Hibiscus sabdariffa) on blood pressure in hypertensive adults.
First, the details.
No studies were worth reviewing.
And, the results.
In the absence of studies to review, there was no evidence to support drinking red tea to lower blood pressure.
The bottom line?
More than 10 years ago there was a study in rats where roselle given by injection lowered blood pressure.
But nothing in humans.
1/28/10 21:07 JR