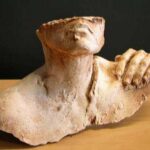 Tactile massage is a soft massage that improves physical relaxation and psychological well-being.
Researchers at Hamamatsu University, in Shizuoka, Japan, studied the response to tactile massage among elderly patients with dementia.
First, the details.
Elderly patients with dementia were assigned to a treatment group.

Tactile massage therapy 30 times each for about 20 minutes
A control group
And, the results.
In the control group, the average scores for "intellectual" and "emotional function" score decreased significantly after 6 weeks.

No change was observed in the tactile massage group.

The "aggressiveness" score and chromogranin A (a measure of the level of stress) decreased significantly after 6 weeks in the tactile massage group.
The bottom line?
The authors concluded, "Tactile massage reduces aggressiveness and stress level in patients with dementia."
Researchers in Sweden tell us, "Clinical experiences indicate that tactile stimulation can contribute to a feeling of trust and confirmation as well as to improving communication, promoting relaxation and easing pain."
In their research they concluded, "Tactile stimulation can be seen as a valuable way to communicating non-verbally, of giving feedback, confirmation, consolation or a feeling of being valuable and taken care of."
A brief background on tactile massage is here.
12/12/10 22:06 JR