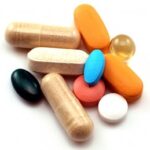 Researchers at the University of Washington, in Seattle, evaluated whether 13 vitamin and mineral supplements and glucosamine, chondroitin, saw palmetto, Ginkgo biloba, garlic, fish-oil, and fiber supplements were associated with total mortality.
The results with glucosamine and chondroitin are most interesting.
First, the details.
77,719 Washington State residents aged 50 to 76 years were followed for an average of 5 years.
And, the results.
3577 deaths occurred during follow-up.
None of the vitamins or minerals was associated with total mortality (all causes of death).
Among the nonvitamin-nonmineral supplements, only glucosamine and chondroitin were significantly associated with total mortality.

Persons with a high intake of these supplements (at least 4 days/week for at least 3 years) had a significantly lower total mortality compared with nonusers.

There was also a suggestion of decreased risk of total mortality associated with a high intake of fish-oil supplements, but this difference compared to nonusers was not statistically significant.
The bottom line?
This study took the broad view–death due to any cause. Perhaps more useful would be death do to a cause that the supplement is used to treat.
That might be a future study. For now, based on this research, supplements do not increase longevity. The exception seems to be glucosamine and chondroitin, which were each associated with decreased total mortality in this group of people.
6/14/10 18:22 JR