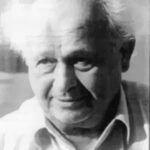 Feldenkrais method (Photo: Dr. Moshe Feldenkrais, the developer) is an educational system designed to improve body movement and function. Its goal is to re-educate the nervous system and improve motor ability.
Researchers at the University of South Carolina, in Columbia report their experience in older adults.
First, the details.
47 elderly adults were randomly assigned to a treatment group for 5 weeks.

Feldenkrais: 60 minutes 3 times per week
Wait list control
And, the results.
Balance and mobility increased significantly with Feldenkrais vs control.
Fear of falling decreased significantly with Feldenkrais vs control.
No other significant changes were observed, although the Feldenkrais group showed improved balance confidence and mobility while concurrently performing a cognitive task.
The bottom line?
The authors concluded, "Feldenkrais exercises… offer an alternative method to help offset age-related declines in mobility and reduce the risk of falling among community-dwelling older adults."
They also want further research to identify any effect of Feldenkrais exercises on cognitive processes.
6/7/10 20:39 JR