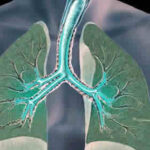 Researchers at the University of Sao Paulo, in Brazil report it "may be especially useful for patients with higher degrees of psychosocial distress."
First, the details.
101 patients were randomly assigned to a treatment group twice a week for 3 months.

Aerobic training: Educational program + breathing exercises + aerobic training
Control group: Educational program + breathing exercises

Health-related quality of life, anxiety, and depression were measured before and after treatment.
Asthma symptoms were evaluated monthly.
And, the results.
At 3 months, physical limitations, frequency of symptoms and psychosocial issues, and total scores of health-related quality of life significantly improved only in the aerobic training group.
The number of asthma symptom-free days, as well as anxiety and depression levels also improved significantly.
There was a significant linear relationship between improvement in aerobic capacity and the number of days without asthma symptoms.
The bottom line?
Asthma symptoms reduce a person's daily activities, impair their health-related quality of life, and increase anxiety and depression that seem to be related to decreased asthma control. The results of this study support a broad range of benefits when asthmatics resist the temptation to become sedentary.
"Aerobic training," concluded the authors, "can play an important role in the clinical management of patients with persistent asthma."
5/2/10 18:16 JR