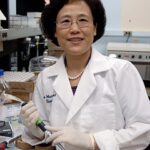 Dr. Xiu-Min Lee (photo) is Director of Mount Sinai's Center for Chinese Herbal Therapy for Allergy and Asthma, in New York.
She has reviewed the evidence and believes that traditional Chinese medicine can help treat food allergies and asthma.
ASHMI, which contains 3 herbs
91 children treated with ASHMI or prednisone
Lung function (FEV1 and peak expiratory flow) improved significantly in both groups.

Improvement was significantly greater with prednisone.

Both ASHMI and prednisone decreased the levels of chemicals and enzymes in the blood that are associated with an allergic response.

The changes were significantly greater with prednisone.

Both were well tolerated

But ASHMI, in contrast to prednisone, did not decrease cortisol levels in the blood — an indication that ASHMI should not have adverse effects on digestion, the immune system, mood and emotions, and sexuality.
Modified Mai Men Dong Tang (mMMDT; 5 herb formula)
100 asthmatic children treated with 40 mg or 80 mg of mMMDT or placebo.
Significantly greater increases in lung function (FEV1) with both doses of mMMDT vs placebo.
The higher dose of mMMDT was not significantly better than the lower dose.

Symptom scores were similarly improved with both mMMDT doses.

Blood, liver, and kidney function tests stayed within normal ranges.
There was no change in IgE — important in the allergic response to allergens.
Ding Chuan Tang (DCT; 9 herb formula)
52 patients treated with DCT or placebo
Adding DCT to standard asthma treatment was associated with more stable airways.
There was no change in IgE.
STA-1 and STA-2 herbal formulas (10 herb combination)
120 patients with mild-to-moderate asthma treated with STA-1, STA-2, or placebo.
Significant reduction in symptoms, steroid dose, and total and specific IgE levels with STA-1.
STA-1 also improved lung function (FEV1) vs placebo.
STA-2 (which differs in how it's made) showed no significant improvement.
The bottom line?
The good doctor also reviews acupuncture, and discusses early research of FAHF-2 on peanut and multiple food allergies.
She believes, "ASHMI and the herbal formulation called FAHF-2 may prove to be the first generation of anti-asthma and food allergy botanical drugs."
1/12/10 11:51 JR