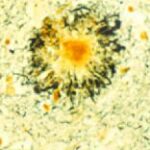 Researchers from Inserm in Montpellier, France studied the value of music therapy in the management of patients with Alzheimer's disease.
First, the details.
30 patients were randomly assigned to a treatment group and followed for 24 weeks.

Weekly sessions of music therapy where the musical style was chosen by the patient
Control group that participated in reading sessions

Over 24 weeks the levels of anxiety (Hamilton Scale). and depression (Geriatric Depression Scale) were analyzed.
The researchers were not aware of the treatment given — single blind.
And, the results.
Significant improvements in anxiety and depression were observed in the music therapy group from week 4 until week 16.
The effect of music therapy was sustained significantly for up to 8 weeks after the discontinuation of sessions.
The bottom line?
The authors concluded, "These results confirm the valuable effect of music therapy on anxiety and depression in patients with mild to moderate Alzheimer's disease."
They continue, "This new music therapy technique is simple to implement and can easily be integrated in a multidisciplinary program for the management of Alzheimer's disease."
1/20/10 20:15 JR