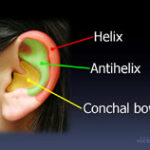 A variant of acupuncture, ear stapling (in which a surgical staple is placed in the conchal bowl [photo] of the ear) is promoted to decrease appetite and induce weight loss.
Researchers from Boston University School of Medicine report 2 patients with infections at the site of needle placement.
Tale of 2 patients.
A 21-year-old woman
A surgical staple was placed in her left conchal bowl 2 months earlier.
She arrived at the clinic with increasing pain, redness, and itchiness at the site.
The diagnosis was left auricular cellulitis (inflammation of the external ear tissue), and the staple was removed.
She was placed on antibiotics and improved after 2 days.
A 30-year-old man
A surgical staple was placed in his left conchal bowl.
After 3 months he developed auricular cellulitis and chondritis (tenderness, rednes, and swelling of the external ear).
The staple was removed, and he was treated with an antibiotic and oral steroids.
He improved after 1 week, and had no further problems.
The bottom line?
The authors reported a third patient with no infection, but came to the clinic to remove the staple after failing to lose weight.
Actually, none of these patients lost any weight.
And that's really the point. A PubMed search revealed no studies of the efficacy of ear stapling for weight loss.
2/16/10 20:24 JR