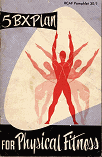 Back in the 60s I bought an exercise book that was amateurish in its appearance and corny in its presentation. However, it was also the first and only exercise program where I lost weight. And it worked without the typical initial aches and pains that tend to lessen your resolve to continue.
One more thing, it doesn't require you to purchase equipment. Just perform the exercises in the allotted time.
It's sometimes called 5BX (Five Basic Exercises) program and was developed for the Royal Canadian Air Force who stopped using it decades ago. There's also a version for women called XBX (Ten Basic Exercises) Some people say that some of the exercises are outdated and could be harmful. Others (like me) used it and had no problems at all. You can download a copy of the booklet here. Better scans of the updated (to reduce the risk of injury) exercises are here, but you should read the entire book to understand the program.
Aside from the usual caveats (eg, age, health status, consult your MD), start at the very beginning and follow the recommendations for increasing the intensity of the program. I had several false starts until I just made the commitment to follow the program as presented in the booklet.
9/17/06 10:33 JR; updated 1/18/11 16:48 JR