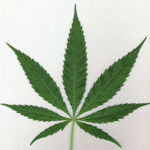 Researchers at Universite de Toulouse, in France, assessed cannabis-related adverse events leading to hospitalization, and the corresponding annual risk.
First, the details.
The records of 200 patients admitted to the public hospitals between January 2004 and December 2007 due to the use of cannabis were reviewed.
Reasons for admission and other events were recorded.
And, the results.
There were 619 adverse events, 1 of which was lethal.
Psychiatric disorders involved 58% of patients and accounted for 18% of adverse events.
Most frequent outcomes:

Central and peripheral nervous system disorders (16%)
Acute intoxication (12%)
Respiratory system disorders (11%)
Cardiovascular disorders (10%)

Researchers estimated that in 2007 incidence of cannabis-related adverse events in Midi-Pyrenees region of France ranged from 1.2 to 3.2 per 1,000 regular cannabis users.
The bottom line?
The authors concluded, "Cannabis use is associated to complications, considered to be serious since they lead to hospitalization."
In addition to the well-known psychiatric events, smokers of pot are at increased risk of serious brain and heart complications.
1/22/11 23:00 JR