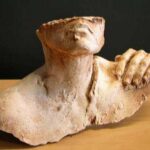 Researchers at the University of Western Australia, in Crawley, studied B6, B12, and folic acid.
First, the details.
299 elderly men with high blood pressure were randomly assigned to a treatment group for 2 years.

Folic acid+vitamin B6+B12 supplementation
Placebo

The commonly used cognitive subscale of the Alzheimer's Disease Assessment Scale (ADAS-cog) was used to measure the response.
A secondary aim of the study was to determine if supplementation with vitamins decreased the risk of cognitive impairment and dementia over 8 years.
And, the results.
There was no difference in the ADAS-cog change over 2 years between the placebo and vitamins group.
There was a nonsignificant 28% decrease in the risk of cognitive impairment and dementia over 8 years of follow-up.
The bottom line?
The authors concluded, "The daily supplementation of vitamins B12, B6, and folic acid does not benefit cognitive function in older men, nor does it reduce the risk of cognitive impairment or dementia."
There appears to be a consensus.
The results support earlier studies at Utah State University and the University of California, San Diego, where dietary intake of B-vitamins from food and supplemental sources appears unrelated to incidence of dementia and Alzheimer's disease.
1/26/11 20:38 JR