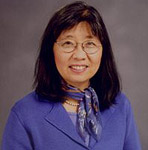 Dr. Elaine Yuen is chaplain in the health care professionals program and research assistant professor in the Department of Health Policy at Thomas Jefferson University in Philadelphia.
In an editorial published in the American Journal of Medical Quality she states, "Spiritual care is integral to the science and art of healing, and therefore a critical component in the quality of care."
She distinguishes between religion and spirituality, and (refreshingly) finds commonality as well.

"Religion is often regarded as a social institution with a set of specific belief systems and rituals; whereas spirituality is often framed as a more personal search for transcendent understanding that may or may not include activities within organized groups."
But here's the key point.
"The common ground that religion and spirituality share is a search for the sacred through the experience of subjective feelings, thoughts, and behaviors."
Secularists recoil at the thought of religion intruding on healthcare. Healthcare professionals, by comparison, look to give their patients every advantage possible. To this end, "Psychological coping mechanisms may be supported by religion and spirituality, addressing sickness and the declining health, fear, helplessness, uncertainty, and physical discomfort that accompany illness."
"Spiritual and religious practices are protective of emotional and physical well-being in times of crisis. Those with strong religious faith appear to be happier and more satisfied and to have less depression."
3/29/07 22:47 JR